Ghost Mannequin Photo Editing Services – In the photo editing industry, neck joint service or neck joint technique is popularly known as ghost mannequin and invisible ghost mannequin services. In online stores, advertising clothing items are a complex task. Showcasing garment items is necessary when it comes to selling. To create two dimensions and three-dimension view of clothing items such as shirts, t-shirts, swimsuits, bras, and pants, etc. photographers have used dolls instead of humans. This process is called ghost mannequin photography.
Ghost mannequin effects increase the sales of your e-commerce business. In today's e-commerce industries, customers look at products on display images instead of the quality of the products. Hence, the neck joint service is used to create effective display pictures to your product photographs.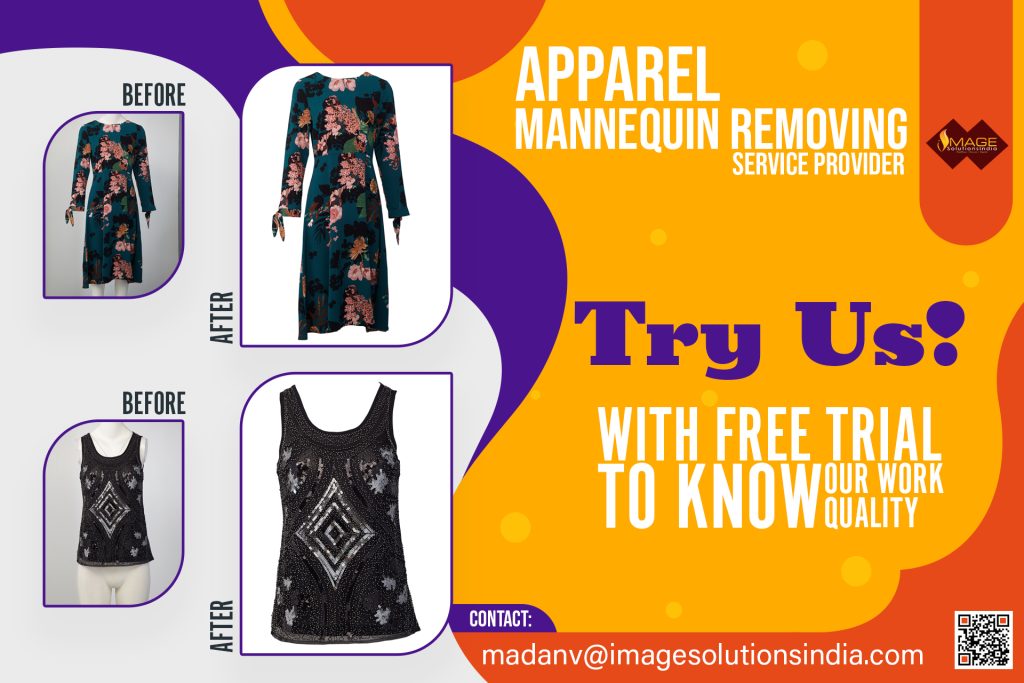 Ghost Mannequin Effect
It is the technique followed by photographers who want to shoot the garment items. Ghost mannequins are a doll which is used to take 2D and 3D photography of clothes with proper shape and structure. The different types of shaped ghost mannequins are used to take the product photographs with the real shape in photo studios. Using dolls to take photographs of clothing items reduces cost. The photographs of dolls with clothing items are used to showcase on the online portals.
Neck Joint Services – Invisible Ghost Mannequin Photo Editing Service
Having an effective online presence will decide the success of your business. Building an online store is easy. But, achieving and bringing outcomes from your store are competitive. If you are doing an online clothing store business, then make sure that you kept great-looking pictures in your portal. Get professional ghost mannequin photo editing service and color correction services from Image Solutions India. We can take care of your clothing images with our outstanding image editing services and fits your clothes in perfect shape, and make your clothing pieces exactly suitable with actual fabric and color balance.
Types of Neck Joint Services
Impeccable Ghost Mannequin Services to Fashion Photography
Ghost mannequin garment manipulation is especially used in the fashion clothing industry. Fit your clothing and make your dummies perfect to display. Whether you have small or medium size dummies, we can edit them manually using our advanced ghost mannequin product editing services by removing unwanted parts from your dummies. Especially, the ghost mannequin technique used for fashion photography industry to increase their product visibility through an online store. Our product photo editing team can add necks, combine necks, add sleeves, etc. to make flawless dummies. Hence, contact our product editors to get affordable product retouching or neck joint services to your clothing industry.
Ghost Mannequin Image Editing Services
Benefits of our ghost mannequin photo editing or neck joint services
Ghost mannequin service helps to enhance your fashion images to display your brand and products professionally.
Make an amazing and stunning look to your garment items by combining front and back images together using advanced image manipulation techniques.
Manually adjusting white balances color and contrast to improve your apparel photography look.
Neck joint service help to display the best quality and stunning clothing images in the online portal
Great opportunity for garment photographers or ghost mannequin photographers to enhance their photographs with minimal cost.
Looking for a professional neck joint service from the best class Product photo editing services provider, please feel free to contact Image Solutions India.
More Information
Mail to: sales@imagesolutionsindia.com
Visit: http://www.imagesolutionsindia.com/image-editing/Photo-Manipulation.html